Many people today enjoy setting up their gardens. Others even treat it as more of a hobby than a chore. Studies reveal that gardening can help reduce stress and lighten your mood. While this home improvement project can be therapeutic, there are a few things you need to consider. Feel free to use the following guidelines below for a successful green lush garden project.
1. Select the Best Location
The first thing you need to do is to find the most suitable location for your garden. While most people grow their garden on their lawn, you can also do it indoors. You just need to be resourceful and improvise the storage area. As much as possible, place them near the windows for more sunlight exposure. Some people also use stylish large copper garden planters to match the overall design of their interiors.
Another way to grow an indoor garden is to build a portable planter box. You can incorporate this with old pieces of furniture like chairs, bookshelves, desks, drawers, headboards, or even tubs. Prepare to set up growing lights for more sensitive plants like ivy, philodendron, or orchids. Today, there are now LED grow lights calibrated specifically for indoor plants.
2. Consider Maintenance Levels
If you're just getting started, it is best to go for low-maintenance plants and dwarf shrubs such as English Lavender, Butterfly Bush, Fringe Tree, Coral Bells, Denver Daisy, Ninebark, Cotoneaster, Wooly Thyme, Purple Pixie, and Agapanthus. Succulents are also ideal for beginners as they don't require much maintenance.
Also, you should also know the growth rate of the plants you're growing. Consider the layout needed for each plant. For example, cucumbers, beans, peas, zucchini, squash, and tomatoes grow well vertically. So make sure to provide enough support. You can use tripods, wire cages, or stick walls for more stability as they start to grow.
3. Create a Theme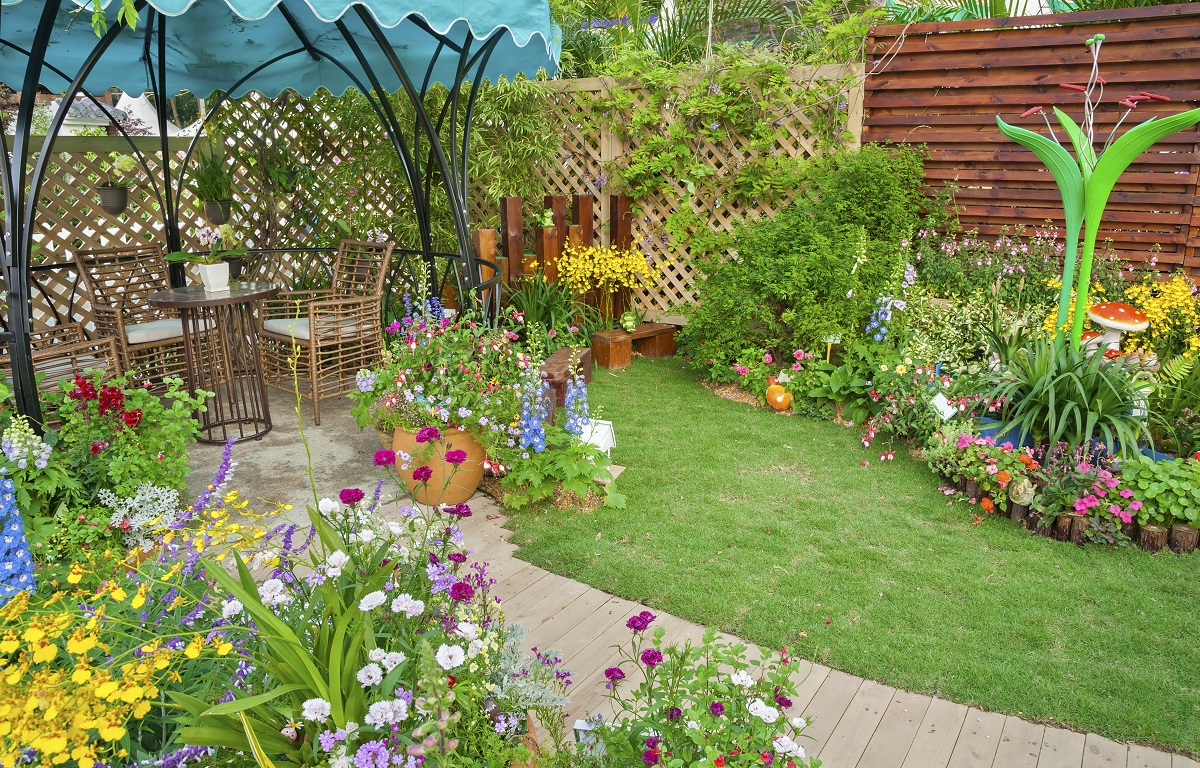 The problem with most people is the lack of preparation when gardening. Make yours more organized by choosing a theme for your project. For example, you can go for an edible garden or a flowering landscape. Layout the structure before buying the materials and furniture. Get the exact size of the site and each layer. The last thing you want to happen is to redo the entire landscaping all over again.
You can also be too specific with your theme. Start an edible Italian garden by growing Cima di Rapa, Bell Pepper, Italian Basil, Cauliflower, Red Onions, and Spinach. If you love Asian cuisine, you can go for crops like span peas, leafy lettuce varieties, eggplant, red kale, radish, snap peas, and coriander.
A tea garden is also a good option. Mint, chamomile, lemon balm, and anise can grow easily in small pots or containers.
4. Organize your Routine Schedule
Gardening is a commitment, which requires daily tasks such as watering, trimming, cleaning, and putting fertilizers. If you have indoor plants, you may also need to take them out for natural sunlight. Make a to-do list and post it on your desk. You can also set your timer on your phone to avoid missing any task.
Now, you're just a few steps away to start your garden. Again, do your research and be familiar with the plants you choose.